The following article was published in an April 2020 issue of the Citrus Country Chronicle
What to do when there is nothing to do
Gary Rankel Special to the Chronicle
Apr 11, 2020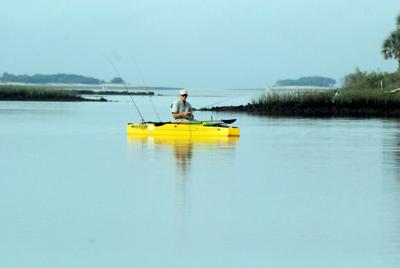 Another day in paradise. Got up early to get my morning run in and check the weather. All looks good for a paddle around our spacious backcountry, hoping to hook into a snook or two and maybe catch a nice trout for dinner tonight. What better way to lower my blood pressure and relieve pent up stress and anxiety?
Talk about social distancing; I'll most likely not spot another angler during my entire day on the water. The morning news isn't all bad: The smog has lifted in LA, CO2 emissions have been reduced and burglaries are way down with everyone staying at home. March Madness certainly took on a different character, but the NFL's off season activities are still on, so I'm able to follow what my Green Bay Packers are up to in free agency and the draft. And yesterday, I even found an eight-pack of Angel Soft mega rolls at Publix, so no need to install a bidet or resort to baby wipes, newspaper, paper towels, napkins or coffee filters. To flush or not to flush is no longer a question.
Most boat ramps in Citrus County remain open, allowing folks like me to get outdoors to boost my physical and mental health in a way that doesn't necessitate close contact with others, while also providing opportunities to secure fresh, high-quality food. Hopefully, our county commissioners won't have to close them should we get too big an influx of boaters from neighboring counties, where many ramps have been closed. Of course, with all the wide spots on the side of the road next to water, those of us who fish in a kayak need not worry about closed boat ramps, parks and other areas and facilities prohibiting water access. The reduction in fishing pressure this year should allow overfished stocks to recover, resulting in better fishing next year than can even be had now with the snook bite on fire lately.
Being retired, my wife and I have become true germophobes, and found it relatively easy to self-isolate and adjust to the new normal in the comfort of our homes. I still venture out to stand in some of the early morning senior lines at Walmart, Publix and Winn-Dixie to secure needed supplies, and greatly appreciate their employees and the many folks still needing to interact with others to make their livings, most especially our health care workers. We've reread most of our old books and just placed an order for several new ones on Amazon. Thanks to Spectrum, we've been able to watch lots of on-demand movies. In between the reading and watching, we Facetime the grandkids in Scotland most days, though they seem to prefer shorter conversations than desired by grandma and grandpa. And, of course, I check the network news daily attempting to separate fact from fiction and science from false news given the unfortunate degree of disinformation and politicization of the crisis, be it by the media, world leaders or our governmental officials at federal, state and local levels.
I don't understand how the United States can have more COVID-19 cases and deaths than other advanced countries, and wonder how the more undeveloped countries like India, Nigeria, Venezuela and Libya, not to mention the refugee camps, with their high population densities, precarious economies, inadequate heath care systems and lack of clean water access can achieve social distancing and avoid catastrophic numbers of deaths. How can unparalleled political turmoil possibly be avoided? Experts don't seem to know if this could be the first in a series of similar recurring outbreaks spreading throughout the world; not a pleasant thought with hurricane season around the corner. Given the limited degree of global cooperation and the mountain of public debt the world is accumulating, how are we going to muster the resources and will to win this battle? Cooperating with China and other countries in seeking a fix to this pandemic seems like a no brainer, but all we do is argue and point fingers.
Gov. Ron DeSantis finally joined other governors with his stay-at-home order. Glad to see that it provides for many outdoor recreation activities, including boating and fishing, as "essential activities" as long as social distancing guidelines are practiced. Unlike the state of Washington, which has outlawed all recreational fishing, Florida's order provides for a more appropriate balance between public safety and allowing for water access and a limited degree of camaraderie for families and community members in these stressful times. And I'm glad to see that the Coronavirus Aid Relief and Economic Security Act signed into law in March contains $300 million for fishing communities, charter fishery participants and other fisheries related businesses affected by the pandemic. Hopefully, that will help keep our hard working fishing guides afloat during this crisis. Fingers crossed, they'll be able to lead scallop tours beginning on July 1.
I wish there was more I could do to address our problems. We don't have a sewing machine and I wouldn't know how to sew if we did, so thanks to all who are making and giving away facemasks; my idea of using heavy-duty, oversized storage bags was shot down by several folks on the Nextdoor network as setting a bad example for their kids and grandkids. The least we can do is continue to follow CDC guidelines and resolve to cast our votes in November for leaders who will place priority on science and common sense in addressing the problems we face.
But, for now, I'm off to Ozello. I look forward to getting some much-needed exercise, hope to come home with a fresh fish dinner, and expect to sleep reasonably well tonight.
Here's hoping that April showers lead to May flowers, a rousing July 4 weekend and a Labor Day at full employment.